Prof. Tomáš Hanuš, MD, DSc (CZ), Chairman
Home » Past Collegium » 6th Collegium Urologicum 2013 » Speakers » Prof. Tomáš Hanuš, MD, DSc (CZ), Chairman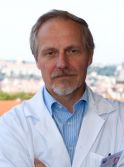 Chairman of the Scientific Committee of the International Continence Society, President of the Czech National Urological Society
Professor Tomáš Hanuš has served as Vice-Dean for clinical education at the First Faculty of Medicine, Charles University in Prague since 1999. Since 2009 he has been the Head of the Department of Urology.
A native from Prague, he received his medical degree from the First Faculty of Medicine of the Charles University. In 1976 he joined the urological department of the General Teaching Hospital and the First Faculty of Medicine of the Charles University.
He is past President of the Czech National Urological Society (1993 to 2008). In 1994, he chaired the Scientific Committee of the International Continence Society. He served as a Secretary of the European Board of Urology (EBU) between 2006 and 2008, and a Chairman of the European Association of Urology (EAU) Central Meeting in 2006. He was a member of the EAU Guidelines Office (1994 to 2012) and a member of the Faculty of the European School of Urology and EUREP. He is a member of EAU, AUA, ESSIC, ICS.
His clinical research, work and publications have been in the area of radical surgery in oncology, urinary tract reconstruction (predominantly repairs of ureteral injuries and urovaginal fistulas), neurogenic bladder and LUTS.
News
Live streaming and an online archive of the International Postgraduate Schools
Summary, lectures, archive
Please, follow the website