Prof. Mete Cek, MD, PhD (TR)
Home » Past Collegium » 6th Collegium Urologicum 2013 » Speakers » Prof. Mete Cek, MD, PhD (TR)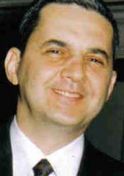 Dr. Mete Çek, Prof. of Urology, has been the Director of the Clinic of Urology, Taksim Teaching Hospital, Istanbul, TURKEY since 1998.
Dr.Mete Çek graduated from Istanbul Medical Faculty of Istanbul University (1980) and completed his residency in urology at the Cerrahpaşa Medical Faculty of Istanbul University (1984). He worked at the Haydarpaşa Teaching Hospital in Istanbul as a chief resident until 1991. Following this he took the position as vice chief of the clinic of urology at the Vakıf Gureba Teaching Hospital in Istanbul where he concentrated his work on urinary diversions.
He became the chief of the urology clinic in Taksim Teaching Hospital in Istanbul in 1998 where he concentrated on endourology as well as urooncological surgery. Dr. Çek took part in the organization of various medical meetings including the ESU course on Continent Urinary Diversion in 1998 in Istanbul and four biannual Symposia on Genitourinary Infections (2001–2007) with international participation. Since 1998 he represents Turkey on the European Board of Urology. He served as the secretary of the EBU between 2008 and 2010 and is currently the president of this organization. He is also a member of the Examination Committee.
In 2002 he has been to the USA to investigate American residency programs for three months. Dr. Çek became a member of the Board of European Section for Infections in Urology in 2002. He is a member of the EAU Guidelines Panel for Urological Infections. As a member of the ESU faculty he has served as a lecturer in ESU Courses in Tashkent, Uzbekistan and Amman, Jordan.
He has been an invited speaker in several congresses and meetings. Some of these meetings include the ICAAC in San Fransisco (2006), National Congress of Urology in Cancun (Mexican Association of Urology-2010), Collegium Urologicum in Prague (2008–2011), SEEC in Belgrade (2011). He became professor of Urology in Trakya Medical Faculty of Trakya University in Edirne in 2010 where he currently works. His interest in urology concentrates on urooncology, genitourinary tracty infections, reconstructive surgery and residency training.
News
Live streaming and an online archive of the International Postgraduate Schools
Summary, lectures, archive
Please, follow the website