Prof. Ján Švihra, MD, PhD (SK)
Home » Past Collegium » 6th Collegium Urologicum 2013 » Speakers » Prof. Ján Švihra, MD, PhD (SK)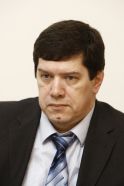 Professor Jan Svihra, MD, PhD received his MD from the University of J.E.Purkyne, Brno (nowadays Masaryk University), Czech Republic in 1987.
He began work in Department of Urology, Jessenius School of Medicine at Comenius University Martin, Slovak Republic, in 1987 as urologist, continuing as the assistant and associated professor of urology until 2012 when he took the position as professor of urology. After spending long period of study in the area of research methods and urodynamic development for lower urinary tract disorders (Copenhagen, Maastricht, Hannover), he became the vice-chairman of department since 2002.
He leads the Slovak Inkoforum association focused on the urinary incontinence, and has made major contributions to this field. He has also contributed management of the neurogenic lower urinary tract dysfunction with respect to the minimally invasive treatment and sacral anterior root stimulation as well.
His clinical and experimental research focus lies in the target regulation of the urinary bladder. He has designed and supported the international studies regarding to the benign prostate hyperplasia, urinary incontinence, OAB and neurogenic bladder. He has authored and co-authored numerous publications and has presented a wide range of research findings.
He has supported scientific work on well-known measures such as the Incontinence-specific Quality of Life (I-QOL), the Pelvic Organ Prolaps Quality of life questionnaire (P-QOL), and the Nocturia Quality of life questionnaire (N-QOL). He is a long-standing member of the International Continence Society (ICS), corresponding member of the Urodynamic Committee ICS, the European Association of Urology (EAU), the American Urological Association (AUA), and the EAU Section of Female and Functional Urology (ESFFU).
News
Live streaming and an online archive of the International Postgraduate Schools
Summary, lectures, archive
Please, follow the website